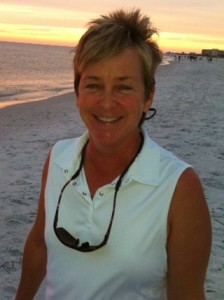 My name is Kim Douglass.  I bought the Pinellas County portion of Grimebusters from Alison and Peter Farnan in May of 2012.  Peter and Alison still remain owners of the Hillsboro County territory.  We work cooperatively to meet all of your pressure cleaning needs in the Tampa Bay area.
We have technicians based in both Palm Harbor and St. Petersburg, serving all of Pinellas County.
I am excited to be a small business owner and take great pride in excellent customer service.  I enjoy the daily contact with our customers and find satisfaction in helping each of you maintain your home.  I have met so many wonderful people.  I decided to leave my career in landscape architecture and natural resource conservation for some of these very reasons.
I enjoy the attention to detail that we are able to offer.  I have been an artist for 25 years, so the aesthetics of a home are important to me.  As I have been involved in real estate for almost 15 years now, I understand the importance of a well-maintained home, both for your enjoyment as well as protecting your largest investment.
Over 60% of our business comes from repeat customer and another 20% are referrals.   That tells me we are doing a great job and the business I am growing is meeting its goal of satisfying customers!
I look forward to working with you.  Kim